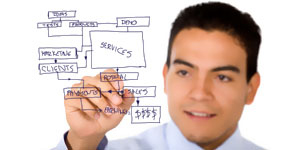 We have proprietary software unlike no other in the industry. We have researched and developed very unique products that have been proven to help make clients successful.
Many companies have a need for unique software that will help with their bottom line. Properly developed software can speed up work related process times, employee scheduling, document handling, daily tasks and many other system problems that may occur in the run of a business day. Whatever your reason the answer is clear, desktopcreation.com is able to outsource a highly skilled team of technical developers from all over the US, Canada, the UK and other countries bringing you the latest in development tools and script handling procedures.
Perhaps your looking to bring to life an idea and don't know where to turn to make it happen. Or maybe you are frustrated with the available software and are looking for an alternative.
We Make Your Software Ideas A Reality
Custom Business Management Software
Unique and Highly Adaptive E-Learning Programmers
Personal CMS Systems With Advanced Cataloging
Scheduling And Time Management Software
Database Driven Users Account Software
Personal Blogging and Social Network Software (*note mesa9.com )
Automotive Listings Software
Real-estate Website Development Specialist
Creative Forums For Gamers And Fan Clubs
C++, Jquery, (Unique & Proprietary Kquery), Php, Mysql, .Net and More
Contact us for ideas and options at desktopcreation.com