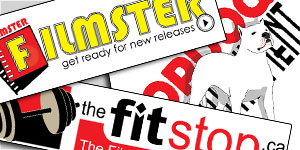 Your own brand is the key to separating yourself from the competition. When people see your name and logo, they will remember your company long after they have purchased your product.
Everyone looking to make an impact in business needs a new inviting fresh logo or icon to make a statement, to show the world what their product represents. We take your vision and turn it into reality by closely studying whatever industry the product or service may represent. We then create a graphic based on not just these principles but as well as marketing strategies and the clients over all desires and needs.
Our Logos and Icons can be used in any print shop and are Industry standard AI, EPS, PSD, PDF and advanced standard FLEXI (FS).
High Impact Designs For Better Visability
Website Icons, Logos and Graphics
Desktop and Software Icons (.ICO)
Brochures, Business Cards, Letterheads and Stationery
Graphics for Multimedia Applications
Large Scale Building Signs and Banners
Vehicle Wraps
T-shirts, Hats, Jackets and Marketing Materials
Website Theme Creation (CMS Themes)
Flash Graphics
3D Graphics and so much more
Contact us for ideas and options at desktopcreation.com